Here's another little pinkeep I stitched and as you can see it is pretty but pretty plain and in need of an extra little something.
So this is the edging I stitched around it with some jute
Some DMC floss
I held the end of the jute to the bottom of the pinkeep, holding it over the closed up part and stitched over the end a few times to hold it in place.
To begin the edging stitch, bring your needle over the jute cord diagonally, about a quarter of an inch from the first stitch. Put the needle in under the jute through the two sides of the pillow.
Continue stitching in this way bringing the thread over in a diagonal.
At the same time keep the jute cord taut along the seam of the pillow so it will be hidden by the cord.
When you have stitched around the pillow, cut the remainder of the cord
Stitch over this last end firmly several times to secure it.
So that's it edged and finished!
I hope this makes sense and you were able to follow these steps!
Linking to The Really Crafty Link up Party
Click on link below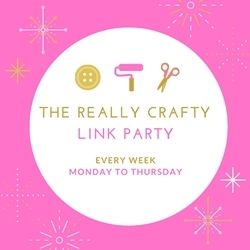 Many thanks for all your birthday wishes on my last post!
Have a great week!