I have been such a bad blogger this past few weeks and it has just been a case of procrastination on my part.
But any how please let me share with you, one of my recent makes, a FALL-ing star made from a lovely checked orange flannel fabric and then I stitched FALL onto some osnaburg to add to it!
It hangs by a rusty wire.
I love getting value from these makes so I backed it in a starry cotton and thought it looked Christmassy so I added JOY to this side and now it can be used for two seasons!!
I will try to be back again with another make very soon!
Linking with THE REALLY CRAFTY LINK UP PARTY below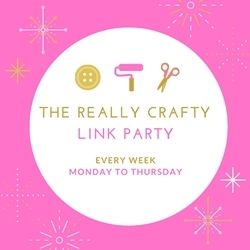 Many thanks for your comments!
Have a lovely FALL week!