Here we are half way through February and just passed Valentine's Day which I hope you all enjoyed with lots of love and flowers and chocolates!
At the start of the month, I read a post by Kim, aka
Farm Girl
and she listed 10 things she loved about this month. Kim always inspires and encourages me by her thoughtful, godly insights and the love of her family and farm. I was encouraged then and there to write a similar post and want to share it with you today.
1. I love February because it means winter is nearly over and spring is waiting in the wings!
It's wonderful to see the buds appearing and never more beautiful and colourful!
2. Of course February is the month of love and I even managed to make a few more hearts to decorate with.
I think I could keep this one out all spring as it has button flowers on it.
This heart is a more primitive one, hand stitched and patched up - a mended heart!
3. I love this month as the birds start really chirping again.
4. The weather becomes a little milder here and on a good dry day I love being able to hang out the washing on the line!
5.I love the stretch in the evenings, the longer days mean we can get out and about more.
6. Having said that, I still love that we are altogether around a nice warm fire. Home is where the heart is, and I am a home bird!
7. These winter evenings are great for handwork and stitching and of course blogging! You are all wonderful friends and so encouraging. It is always heartening to read your comments and to visit you in return and be inspired!
So that's my list and hope you are blessed!
Joining Stephanie for Roses of Inspiration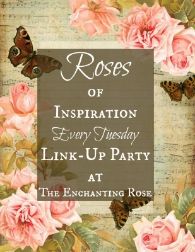 Thanks so much for your visit!
Best wishes