Welcome once again, its so good to have you visit.
Today I'm sharing a couple of Valentine's stitcheries, just finished so I can link with sweet Stephanie at Roses of Inspiration!
This little rework pincushion is so sweet in its sentiment, Love never fails.
It is a free pattern from The Primitive Hare.
Another freebie this time from Plum Street Samplers and is made into the shape of a little stocking, how cute is that?!
I added a button and some crochet trim to finish it off.
So pretty for Valentine's day!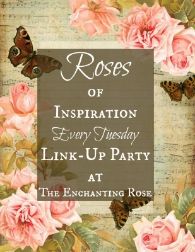 Please check out Stephanie's great link up party.
It is always a pleasure to have you comment and thanks to all who cheered me on last week!
I think I'm back in the groove!
Best wishes