I'd like to share some of our photos and memories of our day in Colonial Williamsburg. I've been wanting to visit for quite some time and thoroughly enjoyed every second of our tour around the town and buildings. Having read some historical fiction set in the area and period, i felt as if i was transported back to that era.
We started in the Governor's Palace, a very handsome red brick building and then went inside.
This was the Governor's wife's bedroom. I was taken with the fabric cutout crown adorning the bed!
The kitchen's were a treat to see as there were all kinds of foods prepared as if a feast was taking place.
The main street, the Duke of Gloucester Street was very wide and beautifully tree lined. I loved how well preserved the houses and shops were, in various colors and styles and there were LOTS of fences. I just revelled in walking around it!
The town's stocks and there seems to be a particularly young British felon being punished that day! LOL!
At five o'clock, there was a military parade with fife and drums and the muskets and canon were fired.
It was a spectacular close to our day in Williamsburg.
Hope you enjoyed this abbreviated tour with us!
Sigh! I'd love to be back!
Sharing today with Roses of Inspiration!
Just click on the link to find more great posts!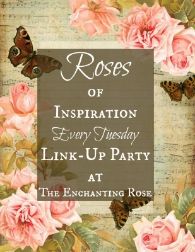 Thank you for coming over!
See you soon!