I love the colors and blossoms of spring and the vivid yellow of the forsythia is one of my favorites.
So eye-catching and cheerful! just what we need to see after the drab winter days. Rather than cut some stems this year, so that i can let them flower away outside for all to see, I thought I could try to make some faux forsythia stems using tissue paper.
This was orginally posted back in March 2015.
So here's what I did: all very easy!
Gathered some bare branches and bought some bright yellow tissue paper.
I drew a very simplistic template which resembles a star fish and placed this on lots of layers of tissue paper at once so you can cut out lots of flowers quickly.
I then fanned out several layers of the flower and pinched them together tightly in the middle to make a blossom.
Using my hot glue gun I began to glue them onto the branches - warning you WILL burn your fingers!!
And TAH DAH!!! A finished stem of vibrant yellow forsythia which you can use anywhere in your home for lovely spring decorating!
Hope you enjoyed and even get to make some!
I am pleased to be linking with Really Crafty Link Party
HERE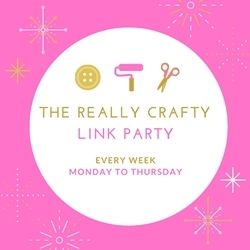 Thanks !